Single room without balcony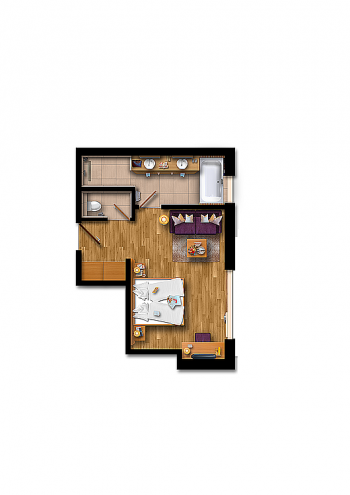 Size: ca. 13 m²
Cosy single room with shower/WC, hairdryer, sitting area, flatscreen TV with satellite reception and free Wi-Fi.
Daily rates
Period
Bed and breakfast until 3 night
Half board until 3 night
BB from 4 nights
Half board from 4 nights
09.10.22 - 23.12.22
08.01.23 - 31.03.23
16.04.23 - 16.05.23
08.10.23 - 20.12.23
60,00 €
80,00 €
55,00 €
75,00 €
17.05.23 - 08.07.23
64,00 €
84,00 €
60,00 €
80,00 €
24.12.22 - 07.01.23
01.04.23 - 15.04.23
09.07.23 - 07.10.23
21.12.23 - 07.01.24
67,00 €
87,00 €
62,00 €
82,00 €
We offer the following included services
A lavish breakfast buffet with homemade jams and our own Tyrolean ham
Wi-Fi in the whole house and immediate surroundings also outdoors on our terrace
Free daily admission to "Aquaforum" (swimming pool and sauna area)
Lockable garage for your bicycles with workbench and utensils for repairs
Parking area for your vehicles
VinschgauCard (free travel on all public transport throughout South Tyrol)
Our general conditions
Prices are per person and per night
You can occupy the rooms from 2 pm. Please let us know in advance if you will be arriving after 7 pm
Please vacate the room by 11:00 am on the day of departure.
You are welcome to bring your dog with you. We charge €5 per day without meals. Dogs are not allowed in the dining room.
If you arrive by train, we will be happy to pick you up from the train station in Laces free of charge.
The invoice can be paid in cash (maximum € 1.999.00), by cheque or by credit card.
We charge a 30% deposit of the total amount when you make the booking.
If the booking is cancelled, the deposit will be withheld and charged as a cancellation fee.
For a fee
Visitor's Tax
The Visitor's Tax was introduced in South Tyrol on 1 January 2014. The income from the Visitor's Tax is used for the maintenance and improvement of infrastructures and services, and for the organisation of cultural and sports events. The Visitor's Tax is charged per guest and night and has to be paid on-site. This municipal tax depends on the category of the business, in our case €1.55 per person per day. Children and teens under age 14 do not have to pay this tax. The Visitor's Tax is due on departure and is shown separately on the invoice.